Health plan decisions should be
easy
That's why Imagine360 brings you solutions that cost less. Give you more flexibility. And allow you to put your employees' needs first.
Choose Your Health Plan — our full-service, self-funded health insurance plan solution — and customize it. If you have a great plan administrator, you can add our stand-alone solutions to your current plan: reference-based pricing and provider partners contracts.

A self-funded health plan solution with 360-degree supportive services for a complete, customized solution
Let's work together to put you back in control. We'll listen carefully and assist in tailoring a comprehensive plan solution to meet your goals. (That's why we call it Your Health Plan.) You'll get the coverage you want with high-quality care at a fair price. Plus, you'll experience the difference that comes when Imagine360's support surrounds you and your employees every step of the way.
Challenging an old, outdated model
Today's employer-sponsored healthcare model isn't working for companies and their employees, who are paying too much and getting too little. That's why we completely reimagined the healthcare experience with the first full-service solution.
Guard against overcharges to lower costs for your business and your employees
It's possible to improve healthcare for your employees
and reduce your spend. We'll help you do it with the #1 reference-based pricing solution in the industry.
Give employees easy access to quality healthcare systems and providers
With Imagine Health's provider partners, they'll get top-rated care at an affordable price. Our partners include prominent systems and individual providers across the nation, plus CVS Minute Clinics and Quest Diagnostics Centers.
"This is the best form of true healthcare reform I've come across."
— Eric Hartter, Chief Financial Officer,
Huffines Auto Dealerships
"I have worked in medical billing for over 25 years and always dealt with larger insurance companies…You guys, without a doubt, have been the easiest people to work with."
— Kathy A., Member

"If you want to regain control of your healthcare costs and be able to better plan cash flow, then contact Imagine360. They really do look out for the best financial interest of the employee and the company."
— Jason Hamelin, Senior Financial Executive,
TÜV SÜD America
"Member support has led to less time needed from HR dealing with day-to-day plan administration, allowing our team to focus on other areas of importance throughout the organization. The savings to the plan has enabled us more financial sustainability and the ability to offer rich benefit options without pushing egregious cost increases on to our members — nearly unheard of in the current healthcare climate."
— Jennifer Walsh, HR Director,
Lincoln Holding Companies
Looking for an experience that's less complex?
We make finding the right solution easier.

Explore more resources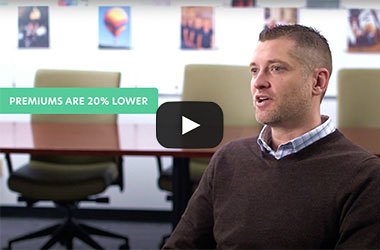 Your health plan can do better. We promise.